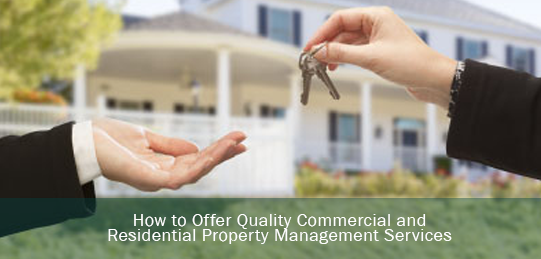 As an investor of commercial or residential property, it is important to offer quality services to your tenants. For most investors, property management services are used to ensure the property is taken care of as well as the tenant. But is your service company offering the best services for your tenants? Below is a short guide on what you should expect from your service company and how your tenants should be treated.
Quality Customer Service
To begin, quality customer service is key. You want every tenant to feel that they are listened to and taken care of. If a problem arises, the management service team needs to rise to the occasion. Have a problem with a commercial property? The commercial property management team needs to be able to take care of the business owner and meet their needs. Customer service reps need to be able to handle the tenant and solve the problem quickly, without having to bother you with trivial details. You need to be able to rely on the customer service skills of your management team so that your tenants are happy and content.
Taking Care of Repairs or Issues
One of the main reasons that rental property owners gain a bad reputation is by not taking care of repairs needed on the property or handling issues. When the tenant reports a problem, the property management services team needs to handle it quickly. You must provide your team with the tools necessary to take care of common issues. This can include contact information for electricians or HVAC companies you trust. When dealing with residential property management, you will find common problems occur such as with heating and cooling. For your tenant to be happy, your management team must take care of the issues as they arise. If the heat goes out, have it fixed. If the lights begin to have electrical problems, take care of it. By taking care of your tenants, they will take care of you by being quality renters.
Regular Maintenance
Going along with repairs and problems, it is recommended that your property management team take care of regular maintenance of your properties. This will vary on what needs to be done depending on what type of property you have. With both residential and commercial, you should have the HVAC systems maintained and regularly checked for issues. Additional inspections should be made of the property to ensure everything is in working order on a regular basis.
You may offer lawn care as part of your rental agreement, be it commercial or residential property. If so, be sure the management company takes care of this service for you so that the property looks its best and your tenants are happy with your rental agreement.
If you are in the market for a quality property management service team, contact Latitude Properties today. Learn more about the services the company provides and how they can better serve you and your rental properties. Personalize your service options to cater to your tenants for a quality relationship.