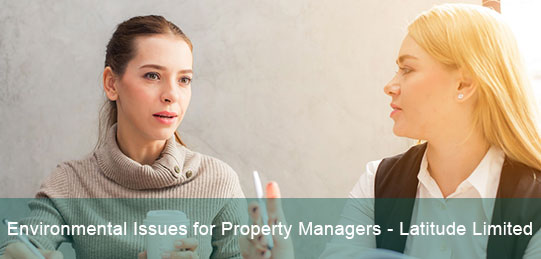 Updating and refreshing both staff training and the equipment is crucial for following through all of the legal regulations. Latitude Properties pays attention to all aspects of environmental protection regulations, making sure all of the permits are in order. Here are a couple of issues to look into when it comes to handling environmental issues as a property manager:
Tackle Air Quality Permits
Air permit application should assume a priority with improvement projects, as omitting it could cause delays and penalties. To make sure they've met all of the permit requirements, property managers are ought to inspect individual case projects, considering the vast variety in regulations regarding the operation of generators, asbestos requirements, refrigerants and other key points. Obtaining necessary permits before initiating projects is a good way to ensure they'll run smoothly and without delays.
Pay Attention To Oil Storage Tanks
Both above and beneath the ground storage tanks require inspection and repairs to meet the strict safety and environment-protection regulations. A lot of the time, the staff isn't equipped or trained to handle spill emergencies, which is an issue a property management company should address urgently. Registration of tanks often falls under the jurisdiction of different departments, and the tanks that are owned by another company are also a subject to assessment of the storage tank capacity.
You may need multiple permits for operating tanks, such as the one for storing flammable and combustible liquids. The best way to avoid penalties is to get information and updates on regulations, providing inspection and timely leak repairs. Also, stay in touch with other service providers to see which permits they've obtained already and which ones are for you to handle.
Store and Dispose of Hazardous Chemicals According to Regulations
It's up to the property manager to monitor the chemicals, like pesticides and expired chemicals, handling safe storage and removal. Hazardous chemicals require strictly regulated removal. Industrial property contractors take up a lot of communicating with contractors and abiding by the requirements of inspection and disposal to avoid being penalized. While storing chemicals, issues like labeling and safe storage are also regulated. But, the regulations vary across different areas, so the best way to keep up with the demands is to get the right information.
When it comes to the safe waste disposal, you also need to look into regulations regarding oil that maintenance workers leave behind, installation of the equipment that uses mercury, light bulb replacement and many more. Though these issues are often the responsibility of other contractors, monitoring and managing them will ultimately secure you against delays.
Proper storing and disposal of hazardous chemicals are environment regulation issues that owners and property managers deal with. The issue here is the need for the property management contractor to be up-to-date with substances that are used to supply and clean the building. Storage and disposal of generator diesel fuel, as well as lead-acid batteries,  are easy to look over. But, they are possibly dangerous and definitely risky from the legal perspective if not stored and disposed of properly.
Latitude Properties doesn't only manage to obtain required permits, but we also have them safely and neatly prepared in case of inspections. What every property manager needs to do is to have all the permits neatly organize and keep up with the inspection and renewal schedule.