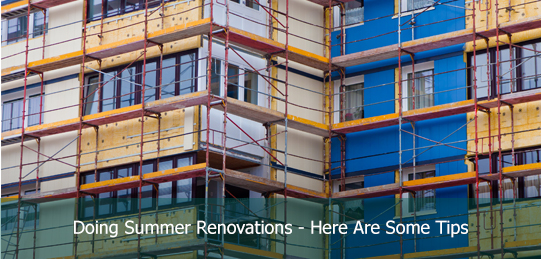 If you are currently considering a property renovation project, remember that summer is the ideal time of year for it. Summer renovations have always been cost saving and convenient thanks to the weather causing fewer delays and allowing projects to get done within a short period of time. This, in turn, reduces labor costs and preserving your overall budget. It goes without saying that a summer renovation done successfully, effectively and in a relatively short period of time is an example of great corporate property management. While this is something best left to professionals and experienced property managers, here are some tips to get you going nevertheless:
Determine the scope of the required renovations

Gather plenty of ideas for remodeling

Perform cost estimations for the entire project

Plan the financing of your renovation ideas

Schedule your project
Determine The Scope Of The Required Renovations
You will need to think carefully and make a detailed list of all the places inside the building that need renovation. This can include doors, ceiling, window glasses and even your swimming pool. The idea is to ensure that you've identified every place that requires renovation so that you can avoid a delayed project or last minute rush, and that planning of the required material is done well and in a timely manner.
Gather Plenty Of Ideas For Remodeling
Even if you don't have a particularly creative mind, you can get your hands on endless ideas for home renovation on the internet, which is the best source of home décor inspiration by far. This means there's no more need for costly and annoying home décor magazine subscriptions, which is a significant save in many cases. When thinking of renovation ideas, be sure to keep them creative and realistic.
Perform Cost Estimations For The Entire Project
When doing a home renovation project, it is crucial to perform cost estimations and see if the project is worth it. If it adds value to your property and you're able to offset the cost, then go through with it. Otherwise, you need to go back to the proverbial drawing board and search for cheaper renovation methods. Ensuring good corporate property management is done by knowing when an investment is worth it; or if it is wise to opt against spending money on renovations.
Plan The Financing Of Your Renovation Ideas
This is a stage in which you need to opt between financing the entire project by yourself or perhaps consider getting a loan from a bank. In the event of the latter, it is recommended to apply for a loan early in order to avoid last minute rush. The first thing to do after financing has been secured, is to buy some or all of the materials for the project. This is done because there's no guarantee that the materials will continuously be available at the initially budgeted price.
Schedule Your Project
Scheduling different activities and stages of the renovation project is important because it allows you to ensure the project will be completed in a timely manner. It is advisable to also allocate some time for unforeseen eventualities, delays and the like. You need to allocate enough time for each renovation activity in this stage by projecting how long it will take to complete. Once you've done this, you can confidently go ahead and begin creating your dream home.
Need To Ensure Top-Notch Summer Renovation Results? Let A Latitude Property Manager Handle it
As you've seen, tackling summer renovation projects can be extremely stressful, time-consuming and overall tiring. If something goes wrong, you're left to fend for yourself and pick up the pieces. A much simpler and better option is to let a professional property manager take charge of your home or rental, to save you the trouble of going through the process by yourself. Latitude is home to an A+ team of experienced professionals who are equally passionate about residential, industrial and corporate property management. Get in touch with Latitude today and let the professionals take total care of your property.