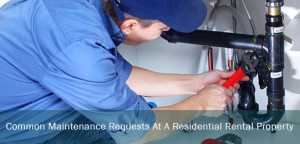 When you decide to purchase a residential property, you will find the process can be time consuming. You will have to care for the property and provide maintenance when the renter has an issue. If you are not handy yourself, it is recommended that you have contact with a plumber, contractor, etc. so that you have someone you can go to when problems arise. As a landlord, property maintenance is your responsibility and you will find that it can take up a great deal of your time, especially when you have multiple properties.
It can be beneficial for you to work with at property management company so you have someone or a team that will handle any rental property maintenance needs. The renter of your property would contact the management company when a problem arises and it would be taken care of without you having to be contacted. Below are a few common maintenance problems so you can see what you would be dealing with.
Clogged Drain
One of the most frequent issues with a home is a clogged drain. Landlords often have to deal with sinks and bathtubs clogging up. It is recommended that you instruct your tenants to avoid pouring chemicals or grease down the drain as well as use hot boiling water to flush the drain system on a regular basis. When you work with a rental property company this is the type of problem they would deal with for you.
Pest Infestation
A big problem that residential rental property owners can face is a pest infestation. Ants, spiders, fleas and even mice can enter the home unexpectedly. This can be due to the renter leaving food out and not being clean or simply just a regular problem. Instead of you having to handle this issue, the rental property management team will take the complaint from the renter and then hire services to fix the pest problem. You won't have to spend time setting traps or spraying bug spray as the issue is handled for you.
Heating and Cooling
Depending on the age of the home, you may also have a problem with heating and cooling from time to time. Issues with HVAC systems are mnalso dependent on the climate in which you live, the type of unit in the home as well as usage by the tenant. When the heat goes out in the winter or the air conditioning is not working in the summer, you can expect a phone call. Instead of having to take care of the issue yourself, a rental company will provide repair service and you just foot the bill.
Overall, residential rental property owners can greatly benefit from having a team of individuals who care for renter issues. Spend your time looking for additional properties or with family as you leave the rental maintenance issues to someone else.
To find out more about property rental management options, contact Latitude Properties Limited.