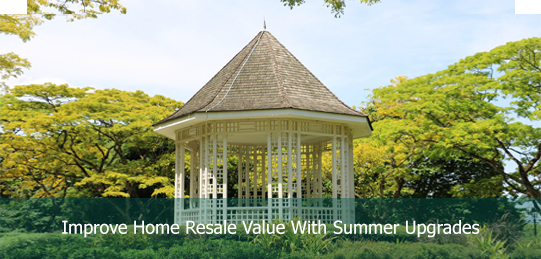 The best time of year to freshen up, improve, upgrade or simply spruce up your home or property is summer. This is when days are longest and the weather is ideal for outdoor activities. There is no better way to ensure good property management for your Kitchener location than to tackle some simple, yet meaningful home projects. These will not only help improve the resale value of your property, it also represents a chance for family togetherness and an opportunity for the little ones to learn, contribute and get a sense of accomplishment. Here are some home improvement project ideas:
Add a water feature in your garden

Organize and clean up your garage

Install a sod lawn

Refinish an existing or construct a new deck

Build a clubhouse or garden shed
Adding A Water Feature In Your Garden
You can construct a fountain from almost anything by using a small water pump. If you browse online, you'll find plenty of complete assembly instructions and ideas for garden fountains. Hot days are nice and fun, but they can also be tiresome. This is where a garden fountain of your own making can come in handy by being both refreshing and meditative thanks the movement and sound of water. Not to mention you'll have DIY bragging rights.
Organizing & Cleaning Up Your Garage
This is one of those projects that you'll end up being glad for tackling, though you typically won't find much fun in it from the start. Thanks to great summer weather, you'll be able to drag everything out from your garage onto the driveway. Then, it's down to deciding what you'll keep and organize differently, as well as what you'll throw away to reduce clutter. In order to maximize organization in the space, you could install racks, cabinets and shelving.
Installing A Sod Lawn
There's always time to grow that lawn you've wanted, that goes especially for summer. If you're looking to spend only a few days on turning barren soil or your existing struggling lawn into a lush green carpet, you can accomplish the job by using rolled up strips of pre-grown lawn called sod. Planning and preparation are crucial when it comes to crafting a successful sod lawn, it always pays to hire a professional lawn specialist or landscaping contractor for help. A great-looking lawn always helps with a home's resale value and is among the most sought-after and prized examples of Kitchener property management done right.
Refinishing/Constructing A New Deck
The summer is the perfect time of year to tackle the job of getting your deck back into shape, especially if yours has seen much better days. A low-level deck is the ideal stage for different types of family activities, from sunbathing and yoga to barbecues. Summer is the perfect time of year to build yourself a deck if your property doesn't have one. Look online and you'll find numerous plans and step-by-step instructions. You can build the deck yourself if you're an accomplished DIY-er; otherwise, a contractor is the way to go.
Building A Clubhouse/Garden Shed
A garden shed can serve different purposes, which makes it the ideal building project. It also represents the perfect opportunity to teach skills and know-how, as it involves basic building practices. It's similar to building a house, but on a much smaller scale. Making it a great way to learn fundamental home construction. A shed can serve as storage for equipment and tools year-round, which takes the strain off of your garage. Similarly, it can also serve as a clubhouse, playhouse or fort for the rest of the summer, keeping the little ones occupied.
Need Professional Help With Property Management For Your Kitchener location? Call Latitude
Property management is an activity that requires experience, know-how and plenty of time in order to be done right. This means that, while you can certainly try to manage your own property, hiring an experienced professional is definitely the recommended option. Latitude Properties Limited is home to an A+ team of experienced professionals who take great pride in maintaining residential, commercial and industrial properties, both in and around Kitchener. If you're looking to make a stress-free partnership and ensure your property is well taken care of, contact Latitude today and leave everything to the experts.