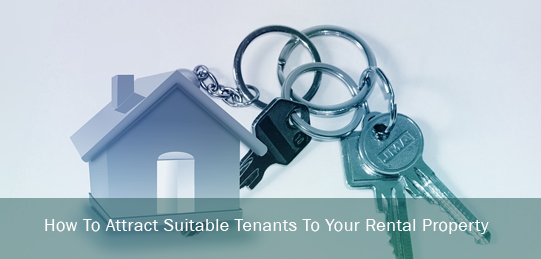 Every residential property management company strives to find the ideal tenants — 'Unicorn Tenants'! The people who always pays rent on time, never disturb others, don't complain or cause problems and keep your property in better condition than when they moved in. Landlords companies want these tenants to stay forever! However, when they do leave, they give proper notice and leave the unit clean and empty.  This kind of tenant is attainable, but you must attract them in the first place.
It all depends on three key things: how well you maintain your property or unit, how competitive the rental price is for it, and how well you market it.
First of all, you need to make sure your property is somewhere that good tenants want to live! It doesn't have to be the best high end unit in the city – just the best that this unit can be for its price range and location. There are many ways to do this, not all of them costing a lot of money, that will help make your property or unit stand out from all the rest.
Consider Renovations, Upgrades, and Cosmetic Improvements.
Good tenants want a clean place that's been well maintained. It's easy and affordable to put a fresh coat of paint inside to brighten the space, or to make it appear more modern. Having all rugs cleaned is a must, and bathrooms and kitchens must be sparkling.
Upgrading old appliances is a good choice, especially in today's market, and so is replacing worn, outdated kitchen and bathroom tile. In warmer climates, adding an air conditioner to a smaller unit, or investing in central air in a home is a major draw.
Depending on the age of your home or unit, replacing bathroom fixtures, or a kitchen sink and counter might be a good idea. People are very fussy about bathrooms and kitchens, and making them appealing is a good tactic. Renovating to add an additional parking space to a 1 car driveway is a must for a home or townhouse, as two adults usually means two vehicles – even though it means less lawn. As well, throw in some small trees and shrubs around the front of the unit or home – real estate property management companies know that curb appeal makes a good first impression! Not only will these investments be worth it in the long run, you'll probably be able to charge a little more rent!
The Right Rent Gets the Tenant!
Before you set your rate, do some investigation. Find out what properties like yours in the same area are going for. Take a drive to see what they look like, compared to what you have to offer. You need to find the 'sweet spot' for your rent. If it's too low, potential tenants wonder what's wrong – you'll get overloaded with showings and they may not be the kind of tenants you want. However, if you charge too much, you won't get much interest at all, and an empty unit means an empty wallet. Do your research, and charge what you believe your property is fairly worth.
That said, it's important to be competitive in a 'hot' market. Dropping the rental rate by anywhere from $25 to $100 depending on the size of the unit, may get that property rented sooner, rather than having it sit vacant for a month or two.
Advertise Well – and Everywhere!
Begin by taking great pictures that showcase the space so it looks like somewhere they want to live. Next, your script needs a good description of the features (double car garage, large deck) but also needs to note the benefits: close to a primary school or just steps away from a farmer's market. Tell prospective tenants why this living space is better than others nearby – tell them if it's larger, has new appliances, had the floor recently re-done, or has new carpeting.
Now, look for places both online and 'off line' to list your property for rent.
Online, use popular sites such as Craigslist and Kijiji which have real estate sections. If they limit the information or pictures you wish to use, put a link in the ad which leads to a website where you can include extras. You can even email everyone you know a copy of the ad or a link to the website – you never know who might be looking.
Offline, use a clear, concise sign that looks professional, is visible from the road, and contains key information to tempt renters. Put up flyers at local businesses on their community bulletin boards. Grocery stores, pharmacies, and community centers are good for this.
Now, even if you do all of this, it doesn't mean you'll get a 'Unicorn Tenant' – but it does mean you'll have a better chance of attracting the type of tenant you want. Good tenants want good real estate property management companies, and showcasing your properties appropriately is one way to show them that you measure up. The most important result is to attract good people, so you have a choice from a number of potential tenants.